ISOLANA is small hotel located on the lakeside of Yamanakako JAPAN.
Please enjoy Mt.Fuji viewing, so beautiful. We welcome the world travelers.





from 15:00

by 10:00

10000 - 14000 Yen(JPY). It change by the room.
At a high season,the seasonal fee will be added.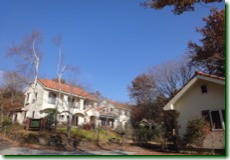 Panorama of ISOLANA

7 comfortable guest rooms. No smoking please in all rooms.
Each of that have their own individual character.
"Lumina" : Detached house, Twin-bedded room for 2 people
"Velero" : Detached house, Japanese-style room with "Tatami-mat" for 2-5 people.
"Viento" : Twin-bed room hybridized with "Tatami-mat space" for 2-4 people.
"Porto" & "Costa" : Twin-bedded room. Extra bed is prepared for the 3rd person.
"Ciero" & "Stella" : Twin-bedded room and Double-bedded room for 2 people.
Toilet with washing function, Make-up wash basin,Hair dryer,
Bath or multifunctional shower room, TV, DVD,Tea set, Refrigerator,
Air conditioning, YUKATA-robes, and the Amenities equipping.
>>Click! and see the photos in JPN. page

Open-Air Bath and Mt.Fuji

Open-Air Bath where Mt. Fuji can be viewed,
Dining room "Cantina" with wide terrace,
Bloomy Garden and Bench for the Mountain view, Parking for 8 Cars,
The Internet using wireless LAN can be connected. Bring the machine for "Wi-Fi".
And connect to the network by yourself.

Open-Air Bath is a detached house only of it.
Japanese style bathtub made with "Teppeiseki" stones.
Arrive early, and you can reserve the time for exclusive use.
>>Click! and see the photos in JPN. page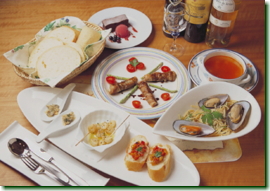 Dinner on a certain day

Dinner serves the homemade cuisine of the Mediterranean style.
Various wines made from various kind of grape were collected.
Breakfast serves an American breakfast.

All building is "No Smoking". Smoke only outside.
Dinner is served on time, 18:30 (October to April), 19:00 (May to September).
Please arrive ahead of time. If your arrival have delayed, we will refuse the offer of dinner.
It can not deal with an individual demand. For example allergy, dining habits,
and likes and dislikes concerning food.


2612, Mizuga-kubo, Hirano, Yamanakako-mura, Minamitsuru-gun, Yamanashi-pref. 401-0502, Japan
TEL. +81-555-62-4722
The small hotel ISOLANA in Yamanakako JAPAN will help the world traveler to enjoy Mt.Fuji. We wish your booking and visiting ISOLANA.